How to Determine the Different Winchester Models
[ Home ] [ Two Ponies Receiver Sight ] [ A Real Nice Gun ] [ Resource Guide Book ] [ 1890 Gun Parts ] [ Explanation of the 1890 Winchester Rifle ] [ Winchester Model Differences ] [ History of Two Ponies ] [ Serials, Barrels and Stocks ] [ 20 Gun Display ] [ Bullet Art ] [ Cowboy Action Shooter ]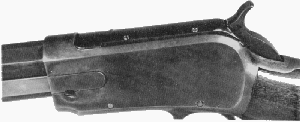 Pictured above is a first model version of an 1890 Winchester rifle.
Note the absence of any take down screw, and the two pins in
the lower part of the receiver, to disassemble the gun.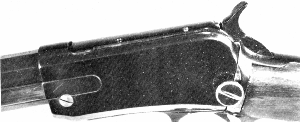 This is a second model 1890 Winchester. It has an identical breech bolt
mechanism as the first model, with the addition of a take down screw.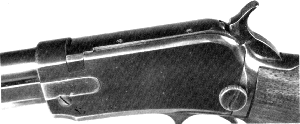 This picture illustrates the third model gun. The breech bolt and receiver
were both changed in this version. The notched receiver accepted the
newly designed bolt to produce a stronger and safer locking mechanism.
The take down screw was retained.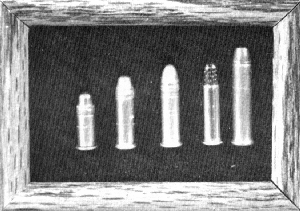 Each model 1890 would only shoot the shell made for that gun.
This picture shows the relationship of size between the .22 caliber
shells. From the left: Short, Long, Long Rifle, Long Rifle Bird Shot,
and WRF (Winchester Rim Fire) - also referred to as .22 special.

Winchester Model 1890
Dates of Manufacture

Production Statistics Courtesy Of:

Bert Hartman
Model Year
Serial Number
at the
End of the Year
1890
245
1891
10884
1892
16454
1893
25954
1894
32554
1895
40218
1896
46525
1897
55855
1898
64748
1899
80268
1900
100554
1901
127181
1902
154985
1903
186724
1904
228104
1905
267637
1906
302204
1907
349947
1908
398006
1909
431483
1910
451600
1911
484700
1912
500000
1913
527500
1914
562400
1915
594300
1916
608741
1917
612979
1918
617978
1919
649452
1920
678928
1921
679313
1922
683470
1923
693040
1924
701941
1925
711462
1926
736246
1927
767898
1928
795605
1929
824623
1930
837448
1931
844278
1932
846022
1933
846524
1934
848044
1935
848584
1936
848936
1937
848936
1938
851810
1939
852090
1940
853674
1941
853708
1942
854745
1943
854745
1944
854745
1945
854745
1946
854745
1947
854745
1948
854745
1949
854747