Resource Guide Book
[ Home ] [ Two Ponies Receiver Sight ] [ A Real Nice Gun ] [ Resource Guide Book ] [ 1890 Gun Parts ]
[ Explanation of the 1890 Winchester Rifle ] [ Winchester Model Differences ] [ History of Two Ponies ] [ Serials, Barrels and Stocks ] [ 20 Gun Display ] [ Bullet Art ] [ Cowboy Action Shooter ]

Pictured below is the Winchester 1890 Resource Guide book.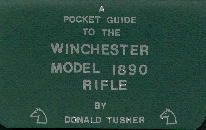 If you are looking for help and information on your gun, this book is for you.

The book leads it's reader through the evolution of the famous 1890 Winchester rifle, showing the differences in models, calibers and styles. It explains the guns lettering, and serial numbers as well as the changes in design from one style to the next. It shows the various types of stocks, and pictures the sights with explanations of the identification marks on the gun.
This is very helpful to those who are just learning about this gun for the first time. It's clear and simply explanations are easy to follow and are written so people will understand what they are reading. With this book anyone can determine their guns type, style and other pertinent information.
The thirty-five clear and accurate pictures in this resource book guide the reader through all the aspects of this rifle and show the parts of the gun while explaining the terminology of this Winchester rifle.
The book includes a detailed section on how to inspect an 1890 rifle and determine its model, type and condition. To identify its serial number and the original factory markings, which tell the gun owner of it's type, and style. This section also will help the reader determine the overall condition of any gun they are researching.
The compact, shirt pocket, size of this guidebook make it ideal to carry to auctions and gun shows. Its 54 pages are packed with details and information about this gun.
The book is reasonably priced at only $12.95 postage paid in the Continental U.S.A.

The purchase price of this handy book includes a FREE Receiver Serial number search. This will tell you the exact day and date the guns receiver was manufactured at the Winchester Factory.

Click on the button below to purchase your own copy.

Please be sure to include your correct mailing address.
Paypal does not furnish it to me.
- OR -


Email Me for details on other ways to order.